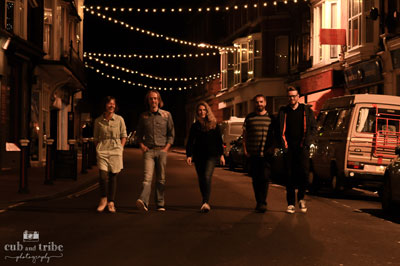 The Equatorial Group
Hailing from the East Sussex coast, The Equatorial Group has been described in many ways, including ramshackle folk-rock, space country, languid Americana and roots-pop.Their distinctive songwriting and performance has been likened to Fleetwood Mac and Magnolia Electric Co. Featuring pedal steel guitar and four part harmonies, their sound has been honed throughout their (many!) years of gigging together.
Their debut album, Apricity (recorded at Echo Zoo Studios, Eastbourne), was released in May 2018, followed by Falling Sands (recorded at Brighton Road Recording Studios, Newtimber) in October 2019.
The Equatorial Group is : Helen Weeks – Vocals, Pedal Steel, Guitars; Twe Fox – Vocals, Keyboards; Andy Tourle – Vocals, Bass; Neil Grimes – Drumset; Dave Davies – Vocals, Guitars, Slide Guitars.
Watch Helen Weeks and Dave Davies perform a stripped-down, windswept, outdoors set on the ELSTOAF Broadcast on 28th December.