ABOUT
Pickhams has been the home of the 2 week long Summer Trifle festival since 2017. Featuring, art, sculpture and music in the open gardens.
Here's a taste of what you could see in the Pickhams Garden in August 2016. We will be uploading video tours of the gardens to our YouTube page soon!
In 2017 and 2019 we applied for and were delighted to be awarded funds from the National Lottery Awards. This has enabled us to commission artists to create sculptures and new and original works to exhibit during the festival, and to book performers and workshop leaders for concerts and events. It has also helped us to keep ticket prices for events and workshops low and to keep entrance to the gardens by donation, rather than having to have set ticket prices.
With the help of funding from the Chalk Cliff Trust we have levelled an area of the field as a site for a second marquee with level flooring and created more paths around the site to improve access for those with limited mobility so that all can enjoy our concerts, workshops and exhibitions. A further grant from Chalk Cliff Trust means we are now in the process of making wheelchair-friendly composting toilets for use during festival events.
During 2020 we have cleared further areas of the gardens to be opened up to the public on future event days, uncovering historic paths around the grounds and creating defined seating areas – handy for live music and drama events as well as our legendary Pickhams Pie, cakes and refreshments. We have also been planting trees in the wild flower area around the labyrinth.
The kitchen garden has been a major project this year – the greenhouse has been moved and the previously unkempt lawn behind the large yew hedge has been given over to vegetable, fruit and herb growing, following some tree surgery to allow more light in.
We did have big plans 2020 for a 'Crazy Croquet' pitch, featuring unique commissioned sculptures form local sculptors, fitting in with an overall Alice in Wonderland theme, but this has had to be shelved and we went ahead with an online version in 2020 then a 'lite' version in 2021. This year we're back with the help of a grant form the Chalk Cliff Trust!
Keep an eye on our Facebook, Instagram and Twitter pages for updates on what we have planned for 2022. Visit the SUMMER TRIFLE page for more details.
In the meantime, please visit our Support the Arts and ELSTOAF pages to see links to makers, creators, artists, performers, musicians – all forms of the arts. Please offer them your support in whatever way you can.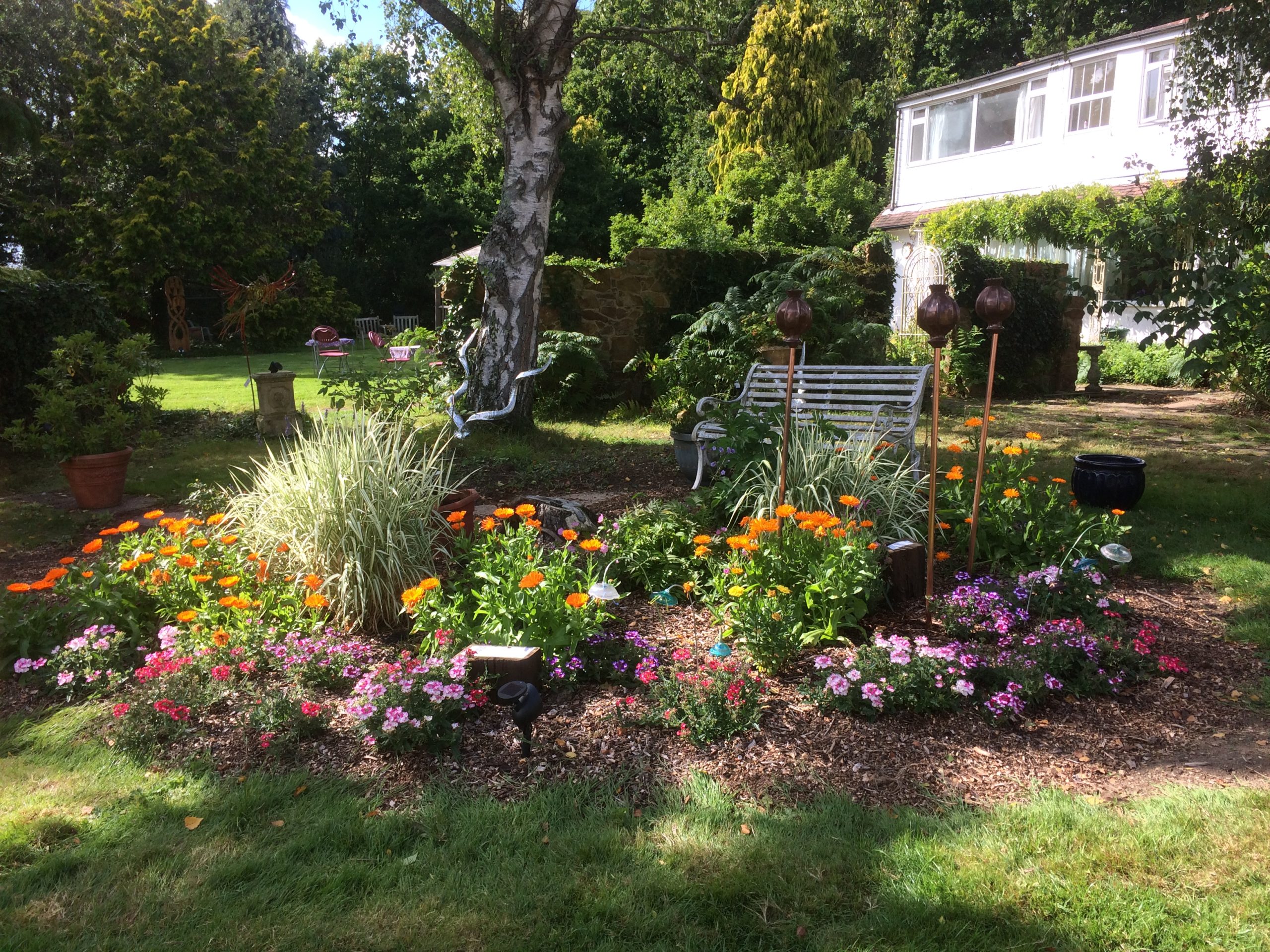 DIRECTIONS
By car:
Pickhams is located approx 9 miles north of Eastbourne. There is parking on site
Public Transport:
Approx 2 miles from Berwick Station and 3 miles from Polegate Station, 1 mile from Wilmington Bus Stop.
Walking/cycling:
Download or view our maps online, pick up a copy from local pubs and shops, or send us a DL size SAE (to FREE MAP, Pickhams, Hayreed Lane, Wilmington, Polegate, BN26 6RR) and we'll pop one in the post.
LOCATION
The gardens are open ONLY during the Summer Trifle Festival or other dates as specified on the EVENTS page.
Pickhams is located a short distance from the South Downs under the gaze of the Long Man of Wilmington. It is situated on the path of a Roman Road, which is now a popular walking, cycling and horse-riding route.
Address:
Pickhams
Hayreed Lane
Wilmington
East Sussex
BN26 6RR
UK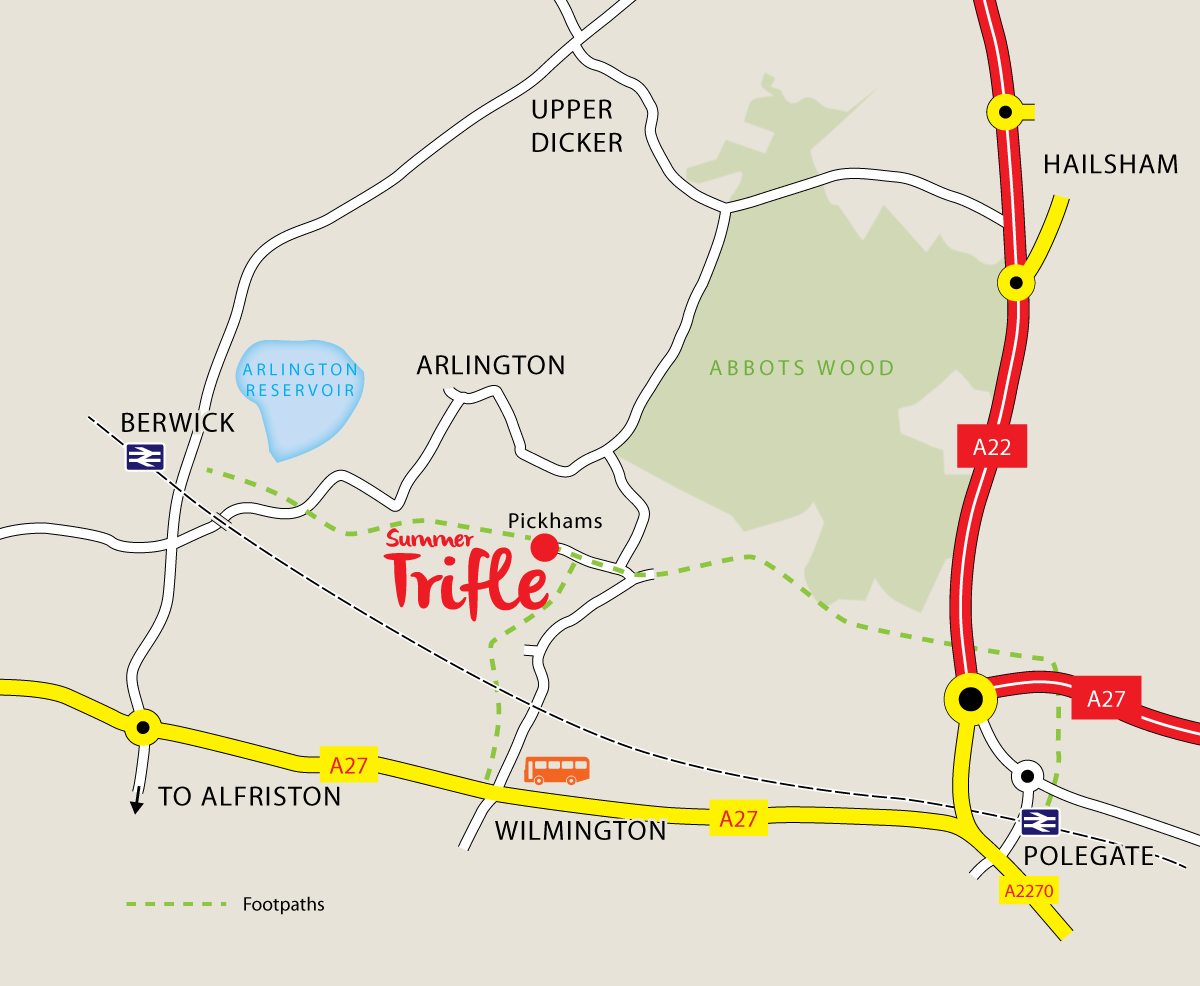 If you are interested in visiting one of our events or in hosting an event in the gardens at Pickhams, please do get in touch.
You can either use the contact form or send us an email
You can also keep in touch via social media (links below) or give us a call on
01323 705153