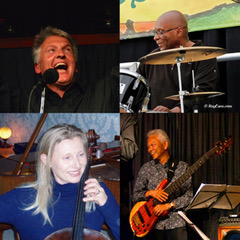 Paul Gunn
Paul Gunn pianist and composer is self-taught. He lives in Tunbridge Wells and has put together The Paul Gunn Collective featuring musicians who work with The London Philharmonic Orchestra, Glyndebourne, and many famous names from the music industry such as Wynton Marsalis, Burt Bacharach and Bryan Ferry.
Paul writes music for cello soloist and five piece band inspired by the Baroque, Latin Rhythms and the British Pop Culture of the 1960s and 70s. He released his first album on CD 'A Beekeepers's Garden' in October 2018. His priority is to perform new compositions to live audiences and of course the Covid crisis has put a stop to that, as is the case with all performing artists. Paul is therefore very grateful to Josie and everyone at Pickhams for including his music in the ELSTOAF showcase and hopes one day to bring his live band to Pickhams.

"Atlantic Drift" This short version dips into the middle of the track with what Prog Magazine described as "A soul-healing cello solo" which captures nicely what I am trying to achieve.
Email
paulgunnmusic@outlook.com